Review: Corsair Lapdog

Introduction
The living room has become a tech battlefield in recent years, with industry giants trying - and, in some cases, failing - to lay siege to our big-screen TVs with new gadgets and gizmos.
PCs, in particular, have repeatedly attempted to make the transition from home office to living room, and gaming manufacturers still harbour hopes of displacing the games console with something far more potent. Corsair is one such brand and the California-based outfit is making a big play for living-room dominance with the upcoming small-form-factorBulldog gaming PC and its accompanying Lapdog portable gaming control centre.
The duo is intended to go hand-in-hand, yet a delayed Bulldog launch has led to Lapdog being first to arrive at retail carrying a £109.99 MSRP. We've spent the past couple of weeks getting acquainted with our review sample, so let's share some thoughts.

The first thing you might be wondering is what the heck is a Lapdog? Good question. In a nutshell, Lapdog is designed to house Corsair's existing keyboard and mice in an effort to make them more comfortable for living-room use. Say, for example, you decide to attach a Bulldog or any other gaming rig to your 4K TV, you might want to bring a proper keyboard and mouse with you, and Lapdog essentially helps realise that goal.
We would normally expect living-room-friendly hardware to be small and discrete, yet Lapdog is anything but. It's a big piece of kit, measuring 735mm (L) x 261mm (W) x 94mm in size and tipping the scales at 2.63kg. You won't be stowing this in your coffee-table drawer, that's for sure, though it's no surprise that Corsair has favoured performance over form.

Lapdog's size is mandated by its need to maintain compatibility with any Corsair K70/K65 mechanical keyboard as well as providing a good-sized mouse pad. It is a large tray on which to house a keyboard and mouse, though of course Corsair does put a little more thought into it than that.
The area above the keyboard is dedicated to cable storage to help minimise clutter, there's a USB 3.0 hub integrated beneath the mouse pad, and if you are going to try balancing this 735mm board on your lap, there's a full-length memory foam cushion that's contoured for comfort and able to clip-on to the bottom of the unit via a series of strong magnets.

A good portion of the Lapdog is plastic to help keep weight down to a reasonable level, though Corsair does maintain the look and feel of other products in its gaming range by including a brushed aluminium top plate that provides ample rigidity. Maintaining that higher-quality top finish, the 28cm mouse pad features a textured polymer coating that looks attractive but can be deemed noisy if you're accustomed to a softer surface.
Around back, there's only one thing of note; the power connector in the upper-right corner. Corsair supplies a 16ft cable as part of the bundle, which on one end connects to the Lapdog via USB 3.0 and power in, and on the other end connects to the host PC via USB 3.0 and to the mains via the attachable mains adapter. That means Lapdog will require a plug socket, and if you don't live alone, you'll have to warn others about the 16ft trip hazard traipsing across the living-room floor.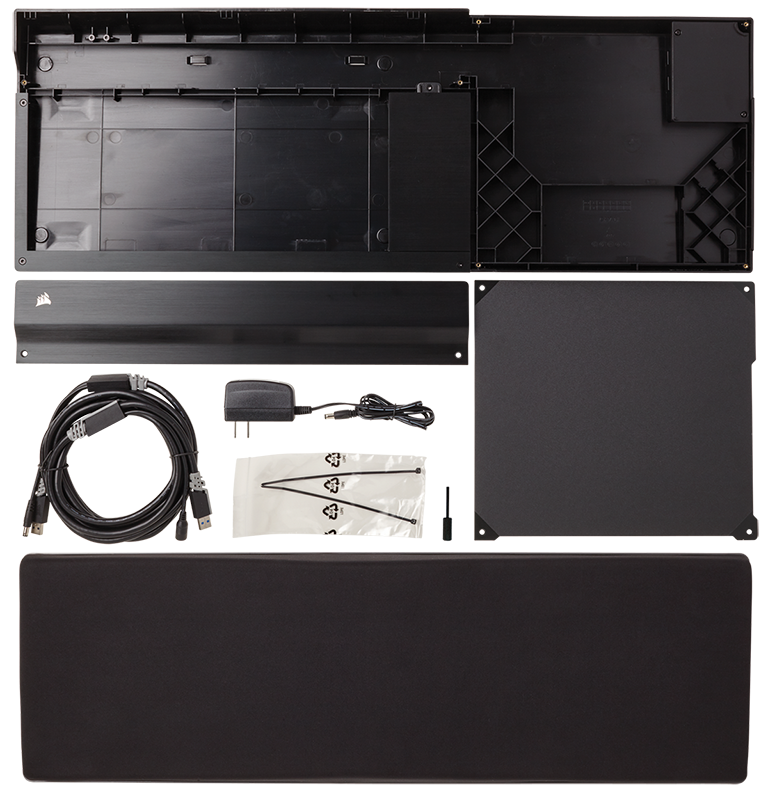 What's handy is that setup is relatively straightforward. Undo 10 screws using the supplied hex key and you can simply pull away the mouse pad plate, cable compartment cover and keyboard adapter plate. The latter would be reattached to fill the void alongside the 10-keyless Corsair K65 keyboard, but isn't required should you choose to install a full-sizeCorsair K70.
The hardware is easy to work with, yet there are a couple of surprise omissions. Firstly, there's no wrist support, and if you're the owner of a Corsair K70, you might be frustrated to find that the bundled palm rest isn't compatible with the Lapdog. Secondly, for left-handed users it's worth noting that the mouse pad can't be switched to the other side, and we reckon Corsair has missed a trick in not catering for users who, in any case, prefer to keep their mouse to the left of the keyboard.
User Experience and Summary
Compatibility with only certain Corsair keyboards limits Lapdog's appeal, yet it's worth noting that promotional bundles will be available at launch. Specifically, Lapdog with a bundled non-RGB K70 keyboard will fetch £189.99 (down from £219.98). We've been sent a K70 mechanical keyboard for testing purposes, and as expected it slots in with no fuss and maintains a snug fit.
There's ample room to stow the excess cabling, and with the panels all reattached, the keyboard is securely held in place and doesn't move at all. Lapdog's brushed aluminium topping is such that it's easy to mistake the K70 as part of the unit, though there is a subtle giveaway to the keyboard's right edge, where the mouse pad is slightly elevated, leaving a gap in which dirt may collect.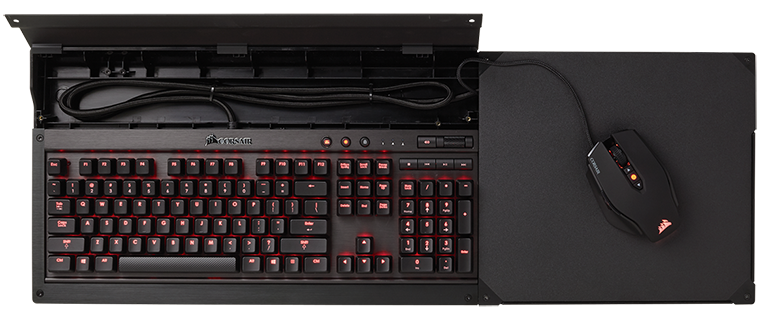 Any USB mouse can be hooked-up to Lapdog's other internal USB port and the wire exits through the side of the cable compartment. Having a proper mouse on a good-sized surface is a real boon for serious gamers, yet the wiring configuration isn't quite ideal. Keeping things tidy with just a short length of cable showing takes away some freedom of movement - you often feel as though the wire is pushing or pulling the mouse in certain directions - and we've found it works best with a larger length of cable pulled out and draped over the back. This isn't as tidy, but it takes away any cable resistance.
Wanting to recreate as much of the desktop experience as possible, Lapdog's two external USB 3.0 ports line the device's right edge and both are capable of supplying up to 1.5A. Handy if you need to quickly charge a smartphone or tablet, and the ports can of course be used for attaching a headset, microphone or a high-speed USB 3.0 storage device.

So what's it actually like to use? Well, it's no desktop replacement. Lapdog's sheer size prevents it from being comfortable, and it feels like having an old Yamaha keyboard resting on your lap. I'm 6'3 with long legs, yet Lapdog still doesn't rest quite right and though the cushion takes away any strain, I feel the need to sit with legs apart in order to prevent any seesaw motion.
Things don't improve a great deal when you do manage to find a comfy spot. The keyboard is so far down the tray that it feels too close to the body, and there's a steep drop-off at the front edge, which feels sharp on your palm. With no wrist support and no desk for your arms to rest on, it doesn't take long for the keyboard experience to become tiring. We aren't convinced, yet if you're passionate about your Corsair mechanical keyboard and you want it on your lap with a good-sized mouse pad, Lapdog works as a means to an end.
Summary
There's merit to the idea of a proper keyboard and mouse in the living room, but there has to be a better way.
Having long since established itself as a reputable purveyor of power supplies, peripherals and other PC accessories, Corsair is now gearing up to make a play for the living room.
The firm's initial push is centred on two key products, Bulldog and Lapdog. The latter, arriving first, is for all intents and purposes a £110 tray designed to stow one of two Corsair keyboard models and a USB mouse.
An interesting approach, yet Lapdog gets off on the wrong foot by attempting to tackle the living-room peripheral quandary in an unexpected way. Whereasother manufacturers have chosen to build a solution from the ground-up, Corsair has experimented with repurposing hardware that was initially designed for desktop use. The end result is a transplant that's bulky and suited only to a niche audience.
There's merit to the idea of a proper keyboard and mouse in the living room, but there has to be a better way. The first-generation Lapdog has inadvertently proven that certain PC gaming hardware is best kept confined to the desk, and if there's going to be a Lapdog v2, it'll need to be smaller, wireless and more refined.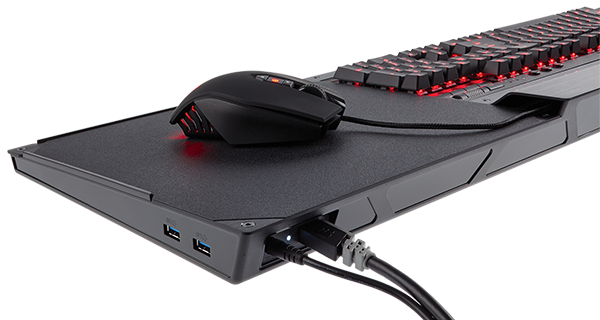 The Good

The Bad

Simple K65/K70 integration
Integrated USB 3.0 hub is handy
Magnetic foam cushion works well

Costs £110 without peripherals
Ungainly form factor
Lacks wrist support
Takes up a plug socket
Doesn't provision for lefties
Leaves behind a thick, 16ft cable
HEXUS.where2buy
HEXUS.right2reply
At HEXUS, we invite the companies whose products we test to comment on our articles. If any company representatives for the products reviewed choose to respond, we'll publish their commentary here verbatim.